Trijicon RMR06 Type 2 LED Red 3.25 MOA Dot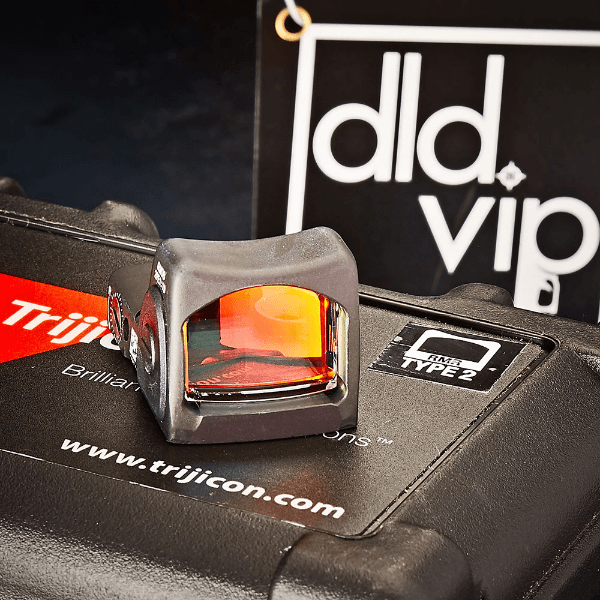 Trijicon RMR06 Type 2 LED Red 3.25 MOA Dot
Out of Stock
Sorry, this item is currently out of stock. Follow this item to receive a notification when it's available again.
Trijicon, RMR Type 2 Reflex Sight, 3.25 MOA, Adjustable LED, Matte Black Finish
Specifications
Finish/Color: Black

Model: RMR

Reticle: Red Dot

Type: Reflex
Description
Enhance your shooting experience with Trijicon. Add speed and precision and speed to your self-defense, duty weapon, competition or target pistol with an RMR or with an upgrade to your stock iron sights. The Trijicon RMR(R) Type 2 is designed to be as durable as the legendary Trijicon ACOG(R), while also improving precision and accuracy with any style or caliber of firearm. A pistol mounted Trijicon RMR Type 2 allows you to shoot more accurately at longer distances by focusing your attention on the target, not the combination of your front post, rear post, and target. The RMR Type 2 is designed with a patented housing shape that absorbs impacts and diverts stresses away from the lens to increase durability. It also offers redesigned and upgraded electronics that have been proven to perform when mounted on slide ride pistols and other small arms. It's suitable for military, law enforcement, concealed carry self-defense, target shooting, and hunting applications.
Features and Benefits:
Unique Patented Housing Shape Diverts the Force of an Impact Away from the Lens
Multi-Coated Lens
Brightness Adjustable LED
Multi Platform Friendly
Waterproof to 20 Meters
Dependable Electronic Design
Button Lockout
Parallax Free
Battery Conservation Mode
CR2032 Battery Powered
4 Year Battery Life @ Setting 4